Peddle off in any direction on one of Bemidji's eight varied trails, ranging from 6 to 160 miles. Explore a city route around downtown Bemidji, or try a more challenging ride at an area park. Shuttles and Nice Ride bike rentals available.
There are a lot of reason for you to Bike Bemidji!
…and the League of American Bicyclists agrees. Since 2012 Bemidji has been distinguished as a Bronze level "Bicycle Friendly Community," one of the first Mississippi River Trail communities in Minnesota to be so awarded.
Peddle off in any direction and you will find a Bemidji bike trails, ranging from six to 160 miles. Many trails are accessible right from your lodging doorstep! Bring your own bike, or rentals available by the hour, day or week at Lake Bemidj State Park, Country Inn & Suites and Hampton Inn & Suites and DoubleTree hotels. Area shuttle service is available and some terrific bike events are held throughout the year.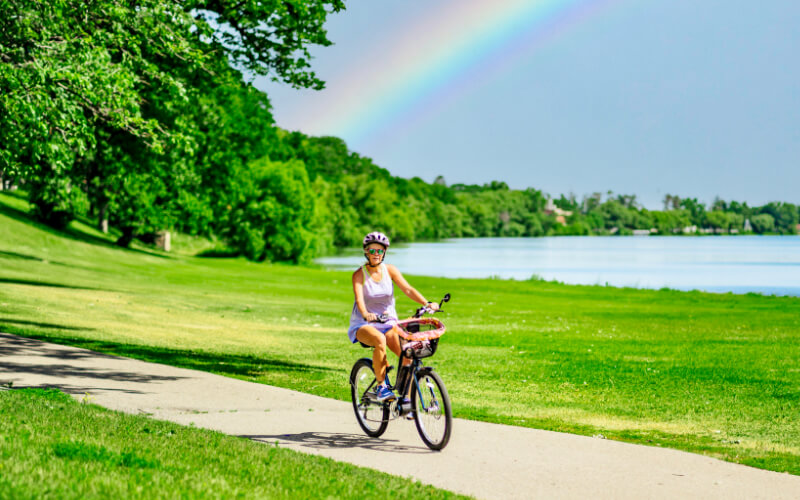 The longest paved rail-to-trail in the country takes you 115 miles, traveling from Bemidji to Brainerd. The trailhead begins at the Bemidji State Park, thought to be the most scenic section of the trail as it winds through the forested park, crossing the Mississippi River, and skirting the east shore of Lake Bemidji.
Mississippi River Trail - MRT
A world-class bicycling route, MRT travels from the headwaters of the Mississippi River at Lake Itasca in Minnesota all the way to the Delta at the Gulf of Mexico in Louisiana. It is a 3,000-mile system of bicycle- friendly roads and multi-use pathways that connects 10 states.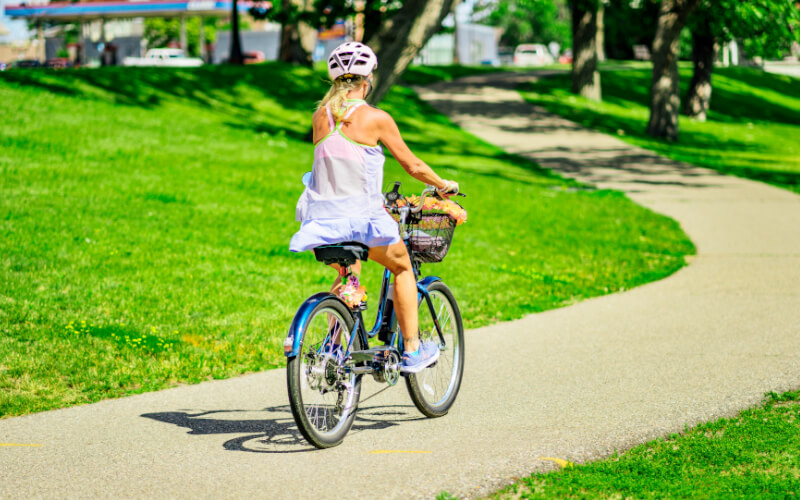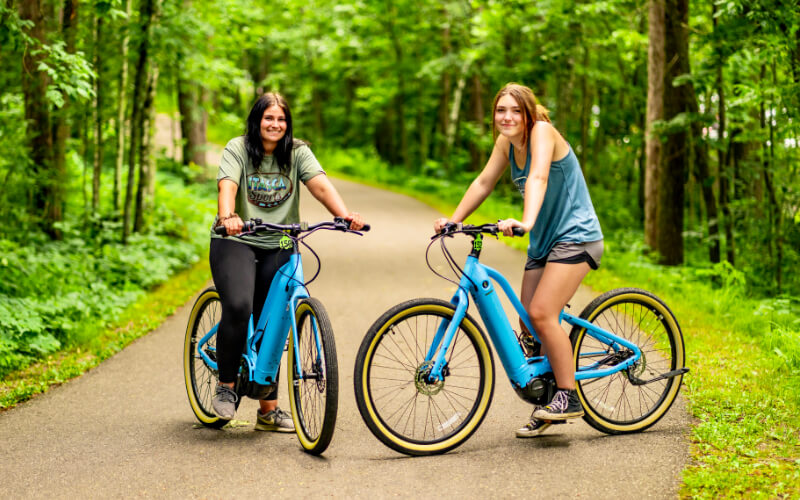 Grab a rental right at Lake Bemidji State Park and enjoy either the Park's lakeside paved trails or connect to the 121 mile Paul Bunyan Trail. The Park also features five miles of fun mountain bike loops.
A network of mountain bike trails constructed utilizing varying terrain features and man-made structures. These single-track trails are regionally recognized as being challenging to all skill levels.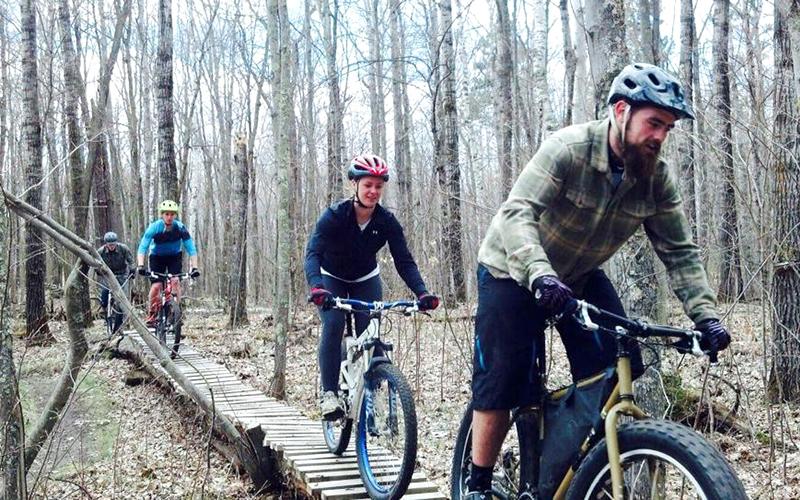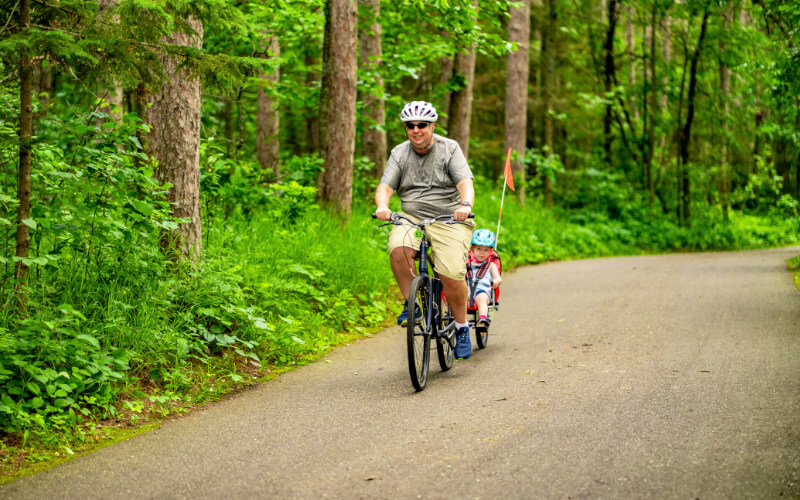 41 miles of paved bike trails line the west side of this vast forest, while mountain bikers can travel over 43 miles of unpaved trails on the east side.
Not to Be Missed Bike Events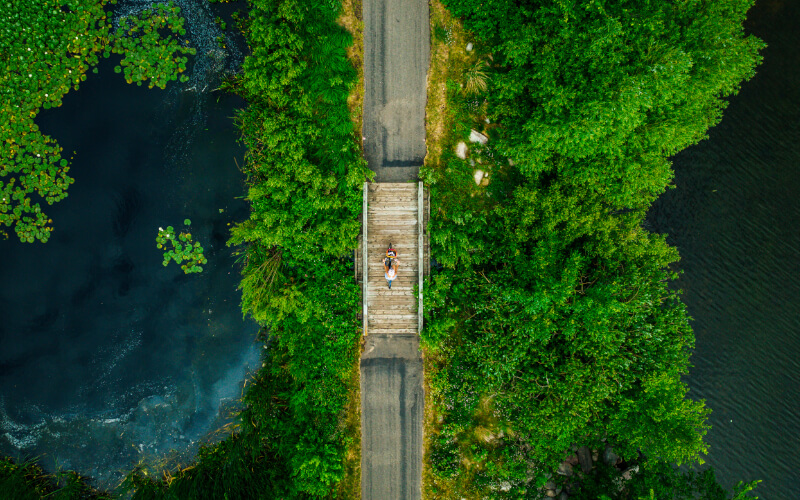 Loop the Lake Event
Family-friendly event held annually in June to celebrate Bemidji's designation as a "Bike Friendly" community. Includes a 17 mile ride around Lake Bemidji with rest stops along the way. Enjoy food, music and activities throughout the celebration.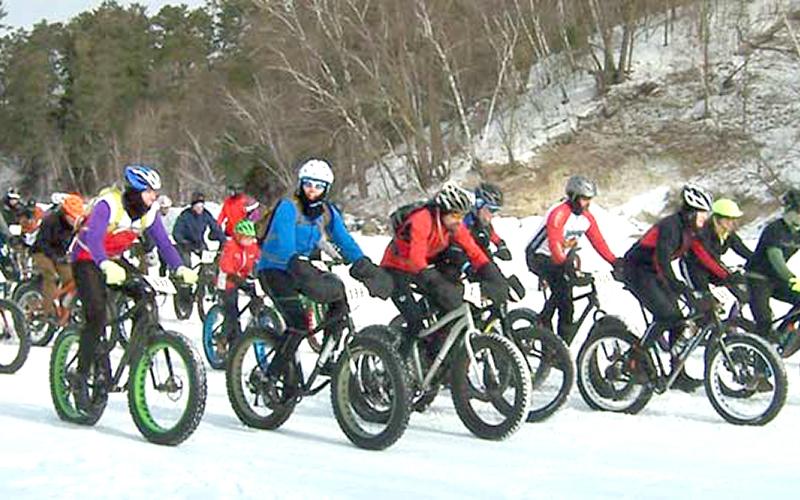 Northland Fat Bike Rally Event
An exciting new winter sport that's not just for fat bike enthusiasts. Anyone with 3.8" tires and a helmet can ride the 10k and 28k course route. Live music and great food with fat bike experts on hand at this annual March event.
Give us a follow to find inspiration for your next visit and share your own adventures!