Favorite Hiking Destinations
Enjoy a beautiful hiking trail just about anywhere in Bemidji - from a tour along the shore of Lake Bemidji to a mile-long boardwalk at the Big Bog State Recreation Area. There are more than 12 miles of trails at Lake Bemidji State Park or journey a deep forest trail to view virgin red pine over 200 years old at Itasca State Park.
It is no surprise that Bemidji was named as a Governor's Fit City in 2009, with all the plentiful hiking trails enjoyed by both young and old! Bemidji has trails to take you through the heart of the forest where you can view rare plants and wildlife. And all around Lake Bemidji and through Bemidji's downtown area are strolling opportunities to view unique art sculptures, and calm the soul taking you to magnificent river and lake views.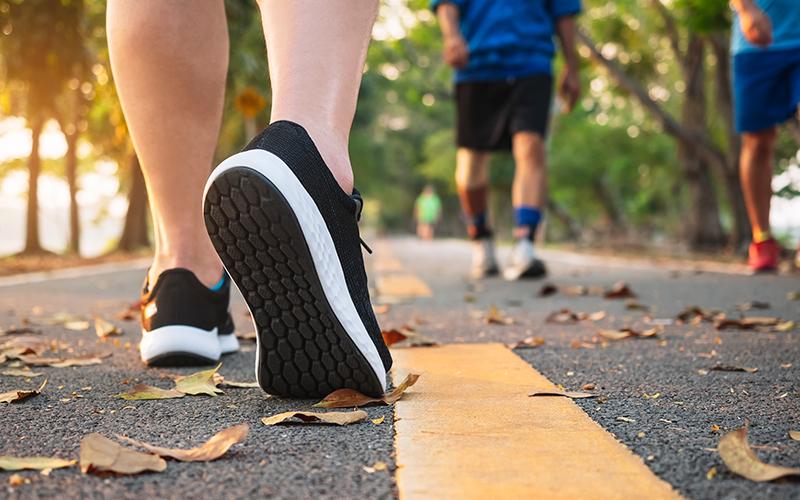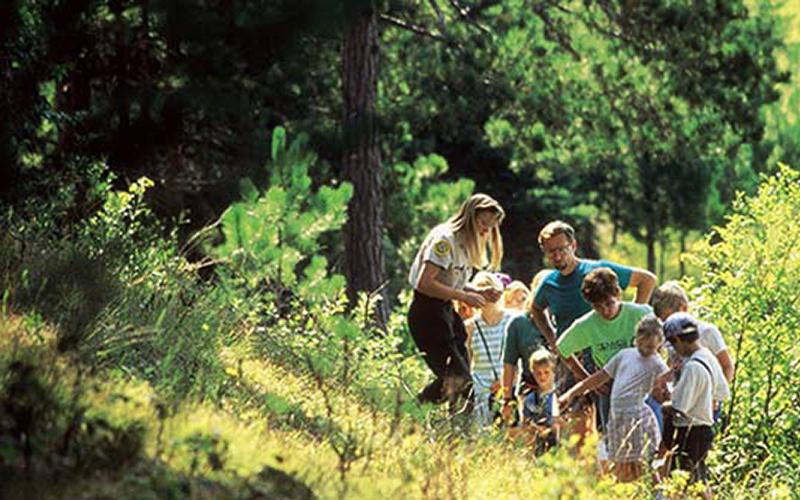 11 miles of easy to moderate trails will take you through areas of maturing pine, aspen and hardwoods. A quiet hike on one of the Park trails can yield a glimpse of a doe with her fawn, a porcupine having lunch halfway up a jack pine, or even an occasional wolf or black bear- all making it hard to believe how close you are to the city. Two miles of the park's trails are also wheelchair accessible.
Rocky Point Overlook with its spectacular view high over Lake Bemidji is one of the most popular Park destinations. The Rocky Point Trail runs along the lakeshore, gaining in elevation as it rises to a bluff where visitors enjoy the observation deck replete with exhibits and benches.
There is no better way to see the Chippewa National Forest than on a trail with enjoyable options for both backpacking and day hiking enthusiasts. The forest offers 26 non-motorized trails totaling 298 miles. Trails range from a half-mile to a 68 mile portion of the 3,200 mile North Country Trail that traverses from New York to North Dakota. Depending on the time of year, strawberries, blueberries, raspberries, blackberries and cranberries can all be found along the way for the picking.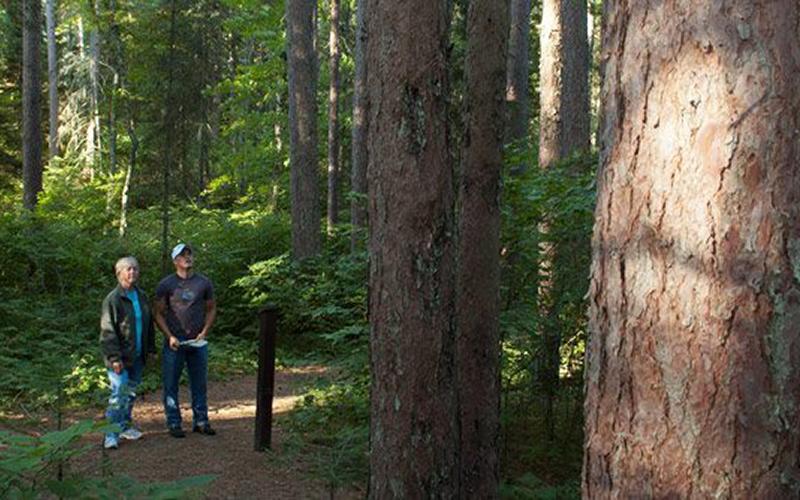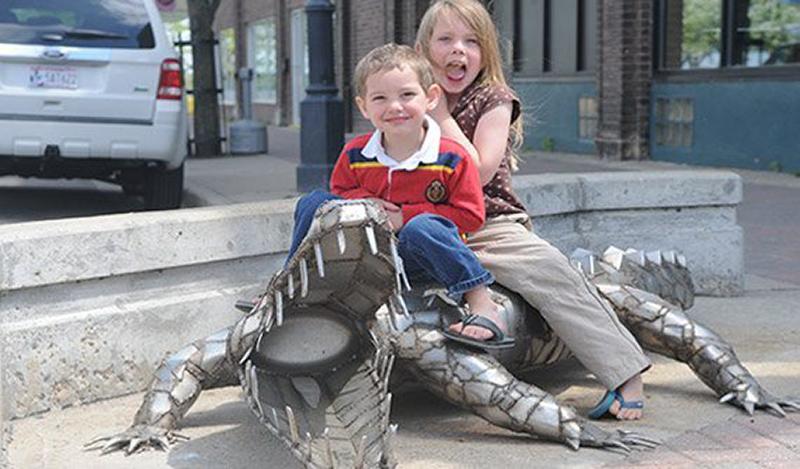 Along the lake and throughout downtown is the Bemidji sculpture walk, named in 2015 as one of the five "Best Art Walks in Minnesota" by WCCO/CBS Minnesota. Over 25 sculptures created by well-known artists make for a beautiful and interesting hike through the town of Bemidji. Each sculpture is carefully chosen and many reflect some aspect of Minnesota life. The sculpture walk is free and changes annually, inviting new reasons to go back often. Supported by the community and curated by volunteers, the art walk is a favorite Bemidji attraction. Begin your tour at the Tourist Information Center where free parking and maps are available.
49 miles of trails take hikers through some of the most scenic parts of the park.
Boardwalk
The trail below Douglas Lodge that runs to the Old Timer's Cabin is a wheelchair accessible boardwalk. This portion is part of the Dr. Roberts Trail. Great for orchid viewing during spring/summer.
Self Guided - 3.25 Miles
A guide for the Dr. Roberts Trail is available at the trail head. Landmark trail has interpretive signs throughout. The Forestry Demonstration Trail and the Blow-down Trail are also self-guided trails. The Aiton Heights Fire Tower includes interpretive information and signs.
Wheelchair Accessible - 1.5 Miles
Accessible trails include the Headwaters Loop Trail and Doctor Roberts Trail that takes you to the Old Timer's Cabin.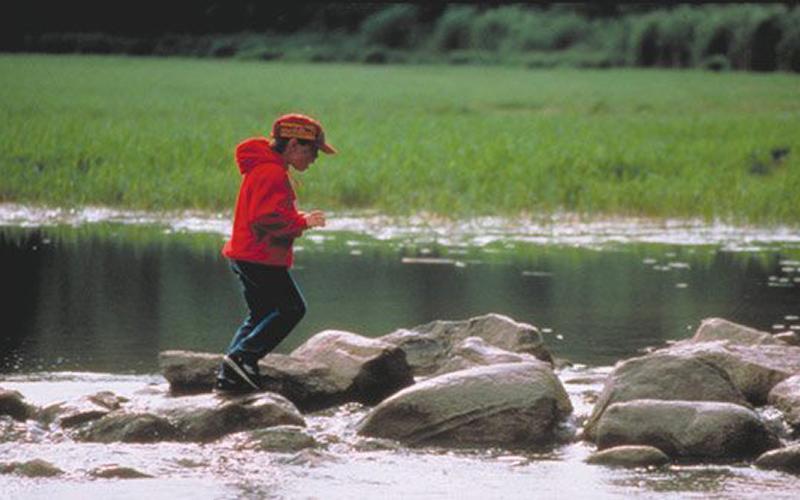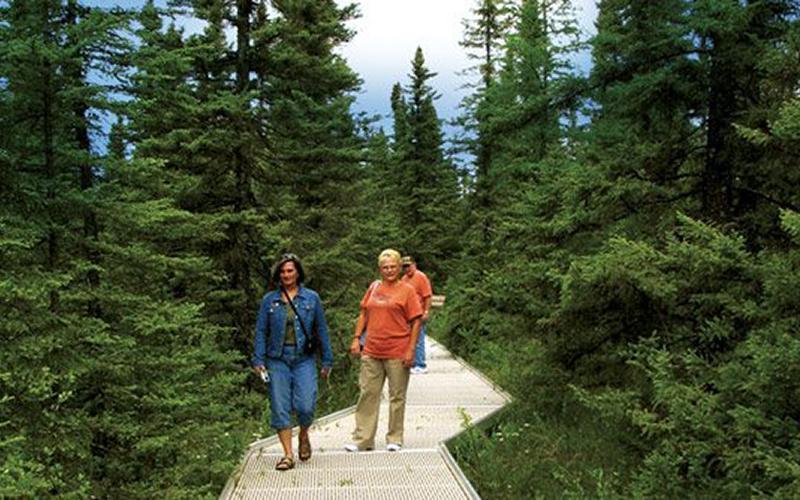 Identified as Minnesota's last true wilderness, this 500-square-mile peat bog is the largest of its kind in the lower 48 states. North of Bemidji in Waskish, a mile-long boardwalk offers visitors a first-hand look at unique plant and animal life. From orchids to carnivorous plants and plentiful birds, visitors will see a mixture of the fascinating and rare. A source of medicinal plants for the Ojibwe Indians, the bog represented a barrier to European settlers who tried in vain to drain it. Today, many of the native plants include yellow-eyed grass, bog rush and two kinds of sun dews, many on Minnesota's endangered or threatened species list.
Photo: Explore Minnesota Tourism
With its northern trail-head in Lake Bemidji State Park, the Paul Bunyan Trail skirts along the shore of Lake Bemidji, crossing the Mississippi River, and offering miles of scenic trails accessible from many points along the way. For fitness, fun, or both, the trail offers excellent opportunities for in-line skating, running, and walking. Trail mile markers help you establish how far you have traveled so you can plan your adventure and gauge your distance.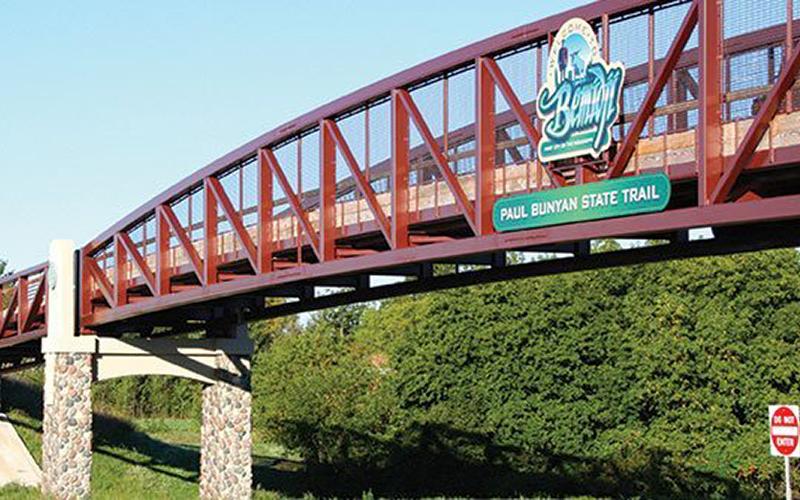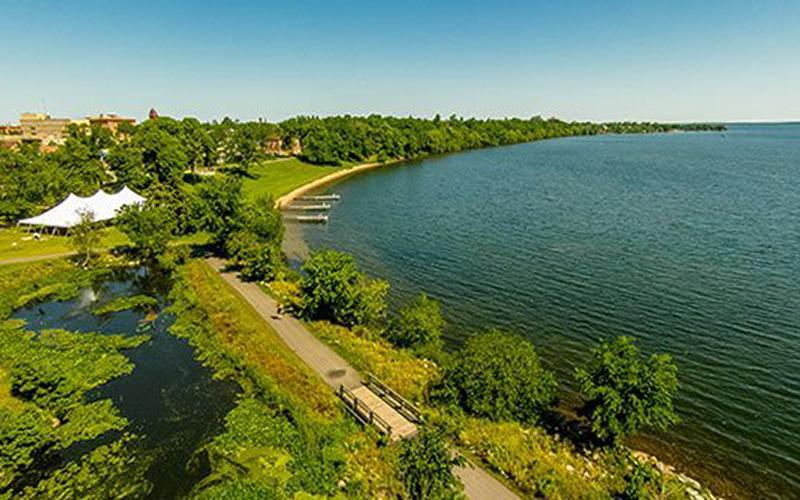 Your starting point for any of these downtown trails is the Tourist Information Center, where there is plenty of parking. Some of the key routes include the following.
Built in 2008 is Bemidji's East-West Trail - 2.45 miles in length located on an abandoned railroad right-of-way. The trail offers a pleasant experience ranging from a more urban character in the downtown leg to a more rural and natural character as it heads west to connect to the Paul Bunyan State Trail.
The Bemidji Wellness Walks includes three routes:
Lunchbox Walk is a 1.5 mile route along the lake that can begin and end at the statues of Paul Bunyan & Babe.
Downtown Loop is just a bit longer than the Lunchbox at 2 miles, also taking hikers along the west shore of Lake Bemidji.
Diamond Point Challenge is a 5K route that shows all the best parts of Bemidji. Starting at the statues of Paul & Babe, following the west shore of Lake Bemidji, this route provides an important connection from the downtown area to Diamond Point and Cameron Park. This lakeside trail offers beautiful views as you travel through the Bemidji State University campus.
Give us a follow to find inspiration for your next visit and share your own adventures!