Storytelling LIVE at Bemidji Brewing
When:
May 2 @ 7:00 pm - 9:00 pm
Where:
Bemidji Brewing
211 America Ave NW
Bemidji MN 56601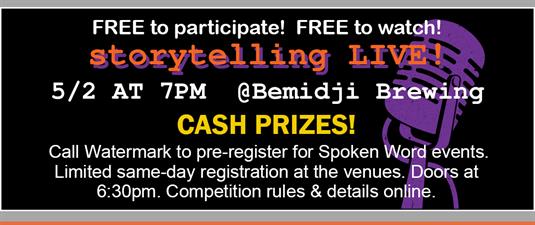 Theme: INTO THE SLIPSTREAM
Featuring live music by Greg and Donna Gaston
We invite you INTO THE SLIPSTREAM as we explore stories of bodies and minds in motion, transitions, and the forces that tug at our edges.
Watermark StorySLAM events feature true personal stories, shared live from memory, in a friendly competition where anyone with a tale to tell is invited to take the stage. Performers are encouraged to consider the THEME when crafting their story. Cash prizes!
Storytellers are strongly encouraged to pre-register by calling (218) 444-7570. Sponsored by Watermark Art Center. Limited same-day signups may be available but are not guaranteed.
Give us a follow to find inspiration for your next visit and share your own adventures!