Beuna Vista Ski Area Open House & Ski Swap
When:
November 18 @ 10:00 am - 7:30 pm
Where:
Buena Vista Ski Area
19600 Irvine Ave NW
Bemidji MN 56601
Beuna Vista Ski Area Announces Open House & Ski Patrol Fundraiser.
Bring ski and snowboard gear for Friday night
Free Pizza, pop, cookies, free drawings, winter gear vendors, Warren Miller Film Fest Viewing and applications for employment will be provided.
Make winter magical this season and get your ticket to Winter fun with an Unlimited Season Pass or Snow Pass Membership which includes other exclusive offers including discounts at other ski areas. Purchase by December 3rd and receive a Bonus Pack valued at $110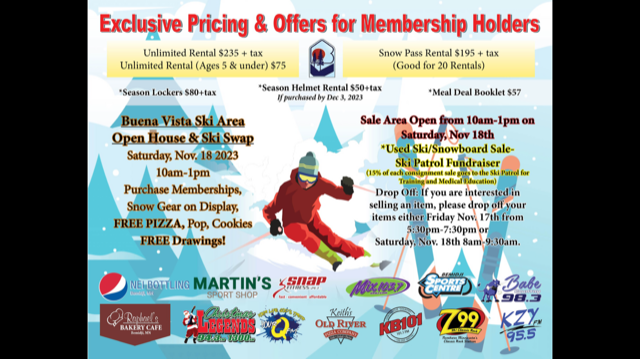 Give us a follow to find inspiration for your next visit and share your own adventures!